Huynh Thu Thuy - Graduate of the Advanced Diploma of Hospitality Management - Class of 2018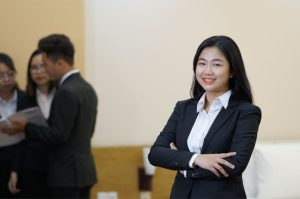 Thu Thuy is not only a student who strived in her studies but also actively participated in extracurricular activities to improve her skills and experience. As a matter of fact, during her coursework, Thu Thuy was one of the typical students selected by the school to receive a scholarship in the hospitality industry funded by CoCobay Scholarship Fund. Thu Thuy was also part of the Pegasus team participating in the 2018 restaurant skills competition.
After graduation, Thu Thuy was quickly appointed to work as an administrative assistant at Rose Wood Hotel Group, which is part of the Hoiana Hospitality Complex.