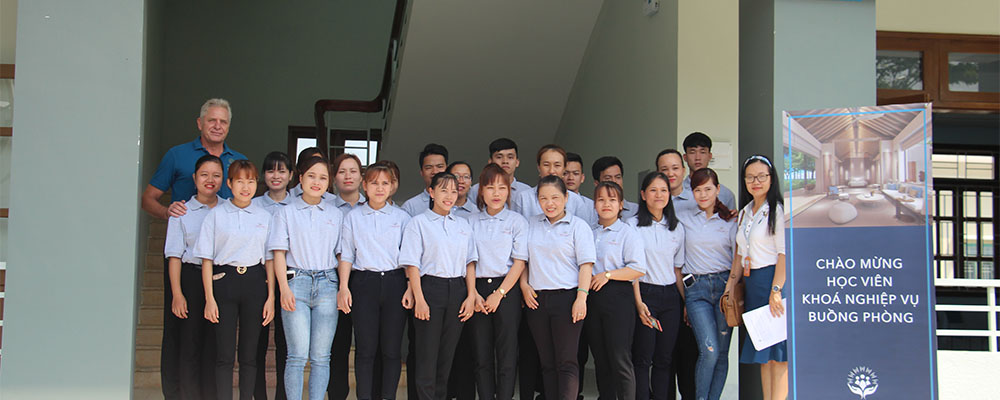 1. INTRODUCTION
Pegasus has an excellent track record in developing tailored programs to provide the right solution for industry training needs. Our past clients include Vingroup, Melia Resorts, Vegas Plaza, An Viet Hospital, etc. A full list can be provided on request.
Training programs provided to our clients:
Operational skills for employees at all departments such as front office, restaurant, housekeeping
Hotel Supervisor
Customer service
Presentation skills
Use MS PowerPoint in presentation
Stream
Qualification
Duration
Advantages
N / A
Certification of completion of the course, issued by Pegasus International College (National validity)
On demand

Renowned and inspirational trainers: The trainers are experienced in implementing training activities in many schools and businesses, so they have a creative teaching style, be able to inspire deeply, and have a positive impact on each student
Flexible training time & cost: Training activities can be implemented at the enterprise's location in accordance with the employees' working schedule. Tuition fees are flexibly adjusted to suit the business budget
The training program is customized to the needs of the enterprise: The course is designed to meet the specific requirements, goals and characteristics of the business. The knowledge in the course is practical and immediately applicable to the daily work of the enterprise
Ongoing support from Pegasus after completing the course: Pegasus continues to support the training department and human resources on the next learning pathway for employees
2. THE PROCESS OF IMPLEMENTING THE ON-DEMAND TRAINING PROGRAM IS AS FOLLOWS:
Conduct a survey, or research on daily activities and training needs of enterprises
After receiving the preliminary request, a team of experts from Pegasus will contact the hotel to conduct surveys, collect more information about the operational situation of the hotel, the management's desire for training activities.
Design training programs and consulting cost packages for businesses
Based on the results of analyzing and evaluating the collected information, a team of experts from Pegasus compiles the content of the training program to ensure optimal efficiency for each student, and at the same time offer many financial solutions for hotels.
Execute the training
Pegasus arranges the teaching timetable in accordance with the hotel's working schedule and coordinates with the hotel to deploy the training according to the agreed program.
Evaluate, review and report on the training program
Pegasus regularly collects feedback forms sent to each participant to evaluate training quality. Trainers then also flexibly adjust the teaching curriculum. At the end of the course, Pegasus collects trainees' assessment of the overall quality of the whole course, and at the same time relies on this feedback to improve the next program.