At Pegasus International College (PIC), students are enrolled in quality training, focusing on knowledge and skills and the application of knowledge and skills. For the Australian Qualification of the Advanced Diploma of Hospitality Management, students will study with foreign teachers. The training program is accredited by the Australian Government. For the BTEC program, students will study entirely in English and receive a British international qualification. This program has been taught in many countries and has a proven applicability and practicality over the long time. Pegasus has also compiled Vietnamese programs based on international curriculum, and ASEAN standards, ensuring students learn the latest knowledge, and practice for the mastery of skills.
Pegasus students undertake their internship at famed 5-star hotels and resorts in Da Nang such as Furama, Intercontinental, Vinpearl, Hyatt, Sheraton, Novotel, Pullman, and many others. Students are under direct training and supervision of department heads, chefs, or sous chefs of these hotels and resorts. After their internship, students have an opportunity to be recruited by 4 and 5-star hotels and resorts across Vietnam, once their studies are complete.
Pegasus students are introduced to job opportunities at 4 and 5-star hotels right after finishing their programs. According to our statistics, 100% of students have been recruited by hotels, restaurants and well-known resorts in Da Nang, Nha Trang, Hoi An, Sai Gon, Phu Quoc, Ha Long and Ha Noi.
PIC students can engage in workplace observation and experience abroad, in countries with developed hospitality and tourism in Asia such as Singapore and Thailand. In those industry visits, there will be opportunities for students to tour hotels, restaurants and resorts that are well-established and have earned their reputation in Singapore and Thailand. There will also be opportunities to visit to the most famous tourist attractions such as Universal studio, Marina Bay, Sentosa, Thailand Palace, and Jade Buddha Temple. Students will pay a visit to leading schools and institutions in tourism, hotel and restaurant management in Singapore or Thailand.
Tourism and hospitality management is now one of the fastest-growing industries with a large need for an educated workforce. According to statistics, Danang is now seeing the operations of more than 800 hotels and resorts. Therefore, the benefit package and promotion opportunity in this career area are really promising. On average, the income of a student right after graduating from PIC is 7-9 million VND. After 3-5 years, students might be promoted to supervisor or department head with 15-30 million VND for salary.
Compared to university education, pursuing a course at PIC only takes two years for a college diploma and 6 months to obtain a primary certificate. Therefore, the time spent for the course is shortened and the cost is also lower compared to studying at university. At the same time, a variety of job opportunities are also available after graduation. The same applies when compared to continuing overseas study – PIC students only spend 18 months to earn an Australian university degree – then can immediately apply for a job in a 4-5 star in Danang, Hoi An, Nha Trang and Phu Quoc or continue employment in Australia under a 2-year working visa (conditions apply)
After graduation, students have the opportunity to undertake university degrees at foreign universities such as Australia, the USA, Canada, Singapore and the UK through advanced standing. Students can also go to work overseas immediately after completing their studies.
TESTIMONIALS OF STUDENTS AND CORPORATES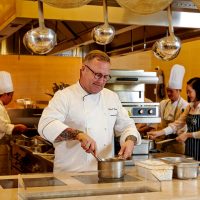 We are always pleased to accompany the growth of Pegasus students. The students here have a positive mindset and are eager to work. They are also very active in asking questions and learning about daily activities in the departments they…See More→