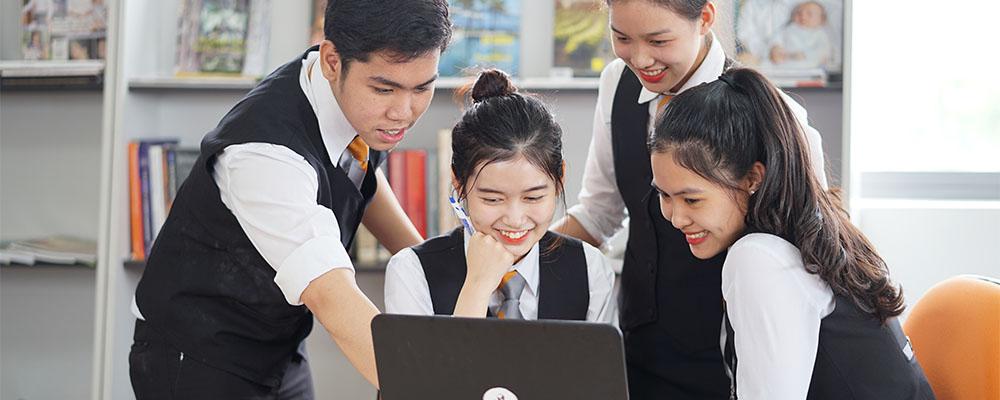 1. INTRODUCTION
Pegasus International College delivers the BTEC HND [Higher National Diploma] from the United Kingdom through Pearson Education.This program comes under the UK training system, and is equivalent to the college level in the Vietnamese education system. With a modern training philosophy aimed at helping students to maximize their learning, the BTEC HND program does not evaluate students based on classroom exams, but rather on practical application. In each subject, students are exposed to simulated work situations and the results will be evaluated based on presentations, practical reports, and specific products. This way of learning and assessment creates an interest for learners, encouraging them to self-study and develop lifelong learning skills.
This is a 2-year program, which is delivered entirely in English. This course is a National Diploma recognized by the accreditation organization Ofqual (The Office of Qualifications and Examinations Regulation) – UK.
BTEC HND is accredited by universities around the world, recognized by employers and professional companies in the UK as well as more than 100 countries. BTEC is the foundation for you to work in multinational corporations or continue to study 1,500 programs at 340 universities around the world in many majors such as business administration, marketing, human resource management, finance and accounting, etc.
Stream
Qualification
Duration
Advantages
BUSINESS ADMINISTRATION
BTEC HND LEVEL 5
2 years

Language of delivery: wholly delivered in English
Qualifications: certified by United Kingdom, valued and recognized globally
Modern education environment and equipment with international standards
Job placement upon graduation is guaranteed for the successful student
2. COURSE OUTLINE
Duration

8 months of preparatory English course (if the student has not met the English entry requirements)
2 years of formal study

Training hours per week

Average of 20 hours / week

Total training hours

2400 hours ~ 240 credits, including research project

Class size

Class size is limited to a maximum of 20 students

Course delivery

Lectures, tutorials, practical and simulated sessions. Most units have online support.

Language of delivery
Language of assessment
Entry requirement

High school graduates
Or complete Level 3 program BTEC
Orcomplete any other Pearson BTEC accepted course

English Requirements

IELTS: 5.5 [no skill below 5.0] or B2 CEFR (or equivalent)
Applicants not having the required English language skills may be granted conditional enrolment subject to undertaking an English Pathway course at the College

Fees

Please contact us for details

Additional costs (if any)

College uniform including vest and jacket
Text books where required, personal stationery

Qualification

BTEC Level 5 HND issued by Pearson – United Kingdom and recognized internationally

Internship
Scholarship

Scholarships are available for suitable candidates. Potential students who are seeking a scholarship need to complete the scholarship application form. The scholarship will be determined based on academic merit and financial hardship. An interview will apply to all candidates.

Further study pathway

Upon graduation, students can work in foreign companies in Vietnam or overseas.

Or students can continue to study higher level in the UK or any universities around the world with an average of only 01 more year of study.

Universities accepting BTEC qualification:

Oxford University
University of Liverpool
University of Southampton
University of Portsmouth
University at Buffalo, State University of New York
San Francisco State University
Hawaii Pacific University
Queensland University of Technology
University of South Australia
University of Hong Kong
And more than 300 others

Work opportunities

Work can be found in the following areas:

sales staff (sales)
counselors
personnel
the media
In particular, you can completely switch between positions in a business
3. UNITS OF STUDY
BUSSINESS MANAGEMENT
07 CORE UNITS
1
Business and Business Environment
2
Marketing Essentials
3
Human Resource Management
4
Management and Operations
5
Management Accounting
6
Managing a successful business project
7
Organization Behavior
03 SPECIALIST UNITS
1
Operations and Project Management
2
Understanding and Leading Change
3
Global Business Environment
OPTIONAL UNITS/ SELECT 4 OUT OF 6 UNITS
1
Business Law
2
Financial Accounting
3
Entrepreneurship and Small Business Management
4
Taxation
5
Statistics for Management
6
Business Intelligence
 
RESEARCH PROJECT
Research Project