Tran Thi To Uyen - Graduate of the Certificate in Hotel Operation - Class of 2019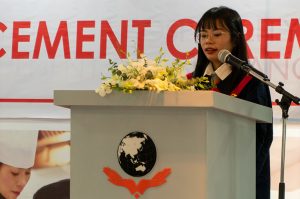 Each person has a situation, a story, and a predestined relationship that brought Uyen to Pegasus to realize her future dreams. That lovely little girl officially enrolled in Pegasus with the thought of being the Chosen One.
During the days at Pegasus, Uyen was always a hard-working and resilient student who enthusiastically participated in school activities. Possessing a sunny smile and positive energy, Uyen always brought joy to everyone around. Walking on a challenging path, it was her positive attitude and belief in her choice that led Uyen to overcome her difficulties. For today, when graduating from college, Uyen has equipped herself with not only the knowledge and skills of her training but also remebered the sad and happy experiences with her teachers and friends. It seems that Uyen is now more mature and braver than before, no longer a somewhat timid and shy girl when she first entered the College. At the end of the program, Uyen became an excellent student in the Hotel Operations course in the academic year 2019-2020.
Uyen is currently working at a coffee shop in Da Nang city to study and gain more experience. Uyen's dream is to be able to own her own coffee shop.