Vo Thi Thu Hien - Graduate of the Certificate in Hotel Operations - Class of 2018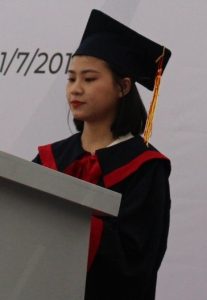 Hien is an intelligent, enthusiastic, and very active girl. After graduating from the Certificate in Hotel Operations course, and with her background at the College and practical experience gained through her internship at the Intercontinental Hanoi Landmark 72 Hotel, Hien decided to continue pursuing the Australian Advanced Diploma of Hospitality Management Program at Pegasus to expand her employment opportunities and develop a solid career for the future.
While studying at Pegasus, Hien believes that Pegasus always facilitates learning conditions in terms of both knowledge and skills for her future work.