Do Quoc Binh - Graduate of the Certificate in Cookery and Patisserie - Class of 2016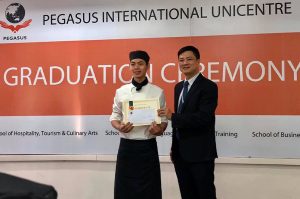 Binh used to be an Electronics and Telecommunication Engineer but with a burning passion for food, he was determined to pursue his passion and chose Pegasus International College as the place to lead him in the first step on his future career path to become a professional chef.
In 2018, with a solid knowledge foundation, he represented Pegasus' students to participate in the "Taste Of Australia" contest organized by the Australian Consulate. Thanks to his passion and creativity, together with the devoted advice of his teachers, he won First Prize and received a 2-year full scholarship at William Blue College of Hospitality Management – Sydney. Despite being small, these initial successes helped him gain better job opportunities and more confidence in his career path.
The message he would like to deliver to students is: "Keep learning, nurture your passion and love your job. It will not disappoint you!"