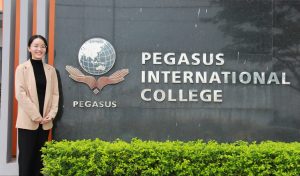 Actually, I graduated from a University with Business English. As my old classmates, I should have gone to work after that. However, everything is completely different from my thoughts. After I graduated, I couldn't find the job that I really want to do honestly. Besides the Covid 19 pandemic came. It's harder for me to find jobs. And after that, I decided to choose Pegasus International College for restarting my future career. Among universities at Da Nang, I've chosen Pegasus for the following reasons:
Firstly, Pegasus International College is a member of the Kinderworld International Group, Singapore, one of the well-known not only in Vietnam but also internationally. It provides high-quality vocational education training programs in the fields of hospitality and business.
Secondly, as you know, I chose British Colleges (BTEC) - the program that comes from the UK training system. This course helps me apply the knowledge on lessons in practice. BTEC doesn't evaluate us based on classroom exams, but rather on presentations, practical reports as well as projects. And I feel so impressed with this course.
Thirdly, on this course, I will be learned and taught 100% in English, which is one of the key factors helping me to be more confident and develop myself more. Before learning about my major (Business Administration), Pegasus requires BTEC students to master English before accessing to students chosen major. After completing with B2 Certification with Dyned program - one of the useful and efficient software in the world, other subjects in my major will be followed, including business, marketing, Human Resources, Operations, Understanding and Leading Change...etc
Finally, upon graduation, I can work in foreign companies or I can continue to study higher level in the UK.
Nguyen Binh Nhu Linh
Business Management - UK Qualification - BTEC