1. INTRODUCTION
Pegasus International College offers the SIT60322 Advanced Diploma of Hospitality Management in 2 streams: Hospitality Operations and Commercial Cookery.
This is a 2-year program (including 3-month internship). Students choose the stream at the beginning of the first year of study
Students can work immediately upon graduation or transfer to one of the Pegasus partner universities to complete a bachelor degree. Specifically, students can choose to go to the UK (need to study for 12 months), or to Australia (18 months), or to the USA or Canada (24 months) to receive a university degree
This course is an Australian National Training program on the Australian Qualification Framework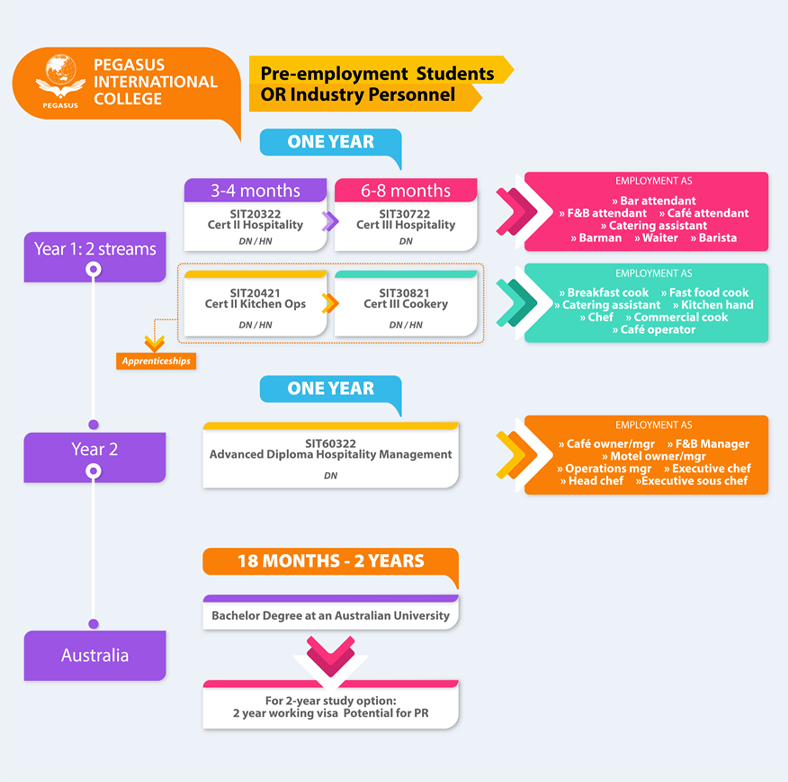 3. WHY SHOULD YOU CHOOSE THE ADVANCED DIPLOMA OF HOSPITALITY MANAGEMENT?
International standard facilities and equipment in a modern learning environment Pegasus International College is equipped with the best facilities and equipment for students to learn and practice. At Pegasus, students can communicate with professors and classmates from other countries
Practical work accounts for 70% of the course program: At Pegasus, the curriculum focuses on practical training to get students job ready upon graduation
The program is delivered entirely in ENGLISH, helping students improve their language proficiency
3-month internship in a 4 or 5-star hotel or resort gives students an opportunity to gain experience in a real working environment
On top of that, graduating with an affordable, globally recognized qualification without leaving Vietnam, is a great advantage for Pegasus students
4. CAREER OPPORTUNITIES
| | | |
| --- | --- | --- |
| Hotel or Resort Manager / Assistant Manager | Hotelier / General Manager | Food and Beverage Manager |
| Area Manager / Operations Manager | Rooms Division Manager | Executive Chef |
| Coffee shop / restaurant owner | Supervising the reception | Sous Chef |
1. What international programs does Pegasus International College offer?
Our international programs are approved by Australian Government as National qualifications under the Australian Qualifications Framework. They are often referred to as AQF courses.
2. Are there any differences between AQF courses provided by Pegasus in VN and in Australia?
Absolutely none
We are required by law to provide an identical course with the same volume of learning and assessment as if it was delivered in Australia.
Pegasus is subject to academic audit by the vocational educational regulator, ASQA, and Pegasus is required to show compliance at multiple levels – student management, delivery, content, staffing, and assessment.
3. How long does it take to complete a program?
The Advanced Diploma is a full-time 2-year course and is equivalent to an Associate Degree
The Certificate III in Hospitality is a full-time course usually taking 11 months including a 12-week industry placement
The Certificate III in Commercial Cookery is a full-time course usually taking 12 months including a 12-week industry placement
The Apprenticeship Certificate III in Commercial Cookery is a 3-year part-time course. Learning is both on-the-job and at College
The NOREC exchange Certificate III in Hospitality takes about 10 months, with 5 months spent in Nepal and 5 months in Vietnam
4. Are students required to have a certain level of English proficiency to study these courses?
Apart from the Apprenticeship, all qualifications are delivered in English. A minimum level of English is required for students to be able to grasp the content of the course and to undertake the assessments.
The standard required is IETLS Academic 5.0 or B1 on the CEFR Scale. Students whose English is lower than this, often do not do well, and struggle with the assessments.
For an additional fee, Pegasus can provide short English courses using DynEd to improve proficiency from A1 through to B1.
5. Is there an opportunity to gain a bachelor degree?
In short, yes. Generally, in Australia, students can get a Bachelor in Hospitality Management or Bachelor of Tourism & Hospitality with a further 18 months study. However, this depends very much on the university applying to. As the Advanced Diploma is a Nationally Recognised qualification in Australia, and is issued by our Australian College, there should be no issue in its acceptance.
For other countries, it very much depends on the structure of the courses applied for and the quality of the university. In the USA, recognition is generally provided for the first two years of a four-year degree and this is similarly true in Canada.
Pegasus has a special arrangement with Edinburgh Napier University, where an ordinary degree can be obtained in as little as 12 months. However, some additional subjects will need to be undertaking in Vietnam to qualify.
6. What happens after I finish the Certificate III course? Can I leave the College and work if I want to?
Our Certificate III courses, although part of the Advanced Diploma, are stand-alone programs in their own right. Students can exit with the Certificate III and work if they want to.
7. What are the job outcomes of these programs?
No student, however well trained, and how high their results, could expect to walk into a management position. It should be expected that the graduate will hold a junior position at first and then, depending on skills, and availability, move up the ranks.
For those with the Advanced Diploma, a career in a 4 or 5-star hotel or resort, in the front office, rooms division, food and beverage, or behind the scenes in finance, HR, marketing are all possible.
For the Certificate III in Hospitality, careers in food and beverage outlets – restaurants, bars, food courts, and catering establishments – would be the norm.
For the Certificate III in Commercial Cookery, careers as a chef are the principal outcomes.
8. What are my chances of getting a job when I graduate?
The demand for Pegasus trained graduates remains high and all previous graduates have immediately found work either shortly after graduating, or have been offered a job immediately following their internship.
The level of the job and salary would, of course, depend on availability and the skills of the graduate, but Pegasus is certain that you will be very much employable upon graduation.
9. Where do students generally do their internships or get jobs?
Within Danang, students will generally undertake internships at the following properties: Mercure Grand, Novotel, Sheraton Grand, Furama, Intercontinental, Hilton, Vinpearl, Rosewood at Hoiana, and 4-Points by Sheraton. Similar properties are available in Hanoi, Nha Trang, Phu Quoc, Ho Chi Minh City.
These same properties have valued our graduates and offered jobs on graduation.
Opening at Da Nang campus: 9/2022  
Tuition discount of 5% for those who register early before August 1, 2022
Hotline: 023 6730 1555
Opening at Hanoi campus: 9/2022
Hotline: 024 7304 1555