EXECUTIVE DIRECTOR & CHIEF EXECUTIVE OFFICER
Dr A.Rashid (EdD)
Pegasus Invesment & Consultancy JSC.,
Dr Rashid has been an Educator for working Adults in Singapore and Malaysia since 1986 for many Private Education Organisations in Singapore like the Marketing Institute of Singapore, Singapore Labour Studies Institute, Management Development Institute of Singapore, Institute of Advertising Singapore, Sumbershire School of Business and Thames School of Business. His thesis on Adult Learners at the Marketing Institute of Singapore helped increased enrolments by 20 per cent from year 2012.
At these reputed higher education institutions Dr Rashid has taught at both under graduate programmes and Master's Degree courses for the University of Wales (UK), Bradford University (UK), Oklahoma City University (USA), University of Canberra (Australia) and most recently for James Cook University, Singapore.
Dr Rashid is also a seasoned Chief Executive Officer with over 30 years of hands-on experience in the following industries: Hospitality, Theme park, Quick Service Restaurants, Hotel, Shipping, Advertising and PR and Private Members' Clubs.
Dr Rashid has vast knowledge in the fields of Finance, Adult Education, Sales and Marketing, Setting up of green-field businesses and in-company training.
---
DEAN AND DIRECTOR OF ACADEMIC DEVELOPMENT
Dr Hank Duyverman
Pegasus International College
Dr.Hank Duyverman has been an Educator and Educational Manager for over 40 years. He has been a Senior Education Manager; and Academic Board Chair for TAFESA, Le Cordon Bleu and the International College of Hotel Management in Adelaide. For 6 years he was a Member of the Flinders University Senate. Among his many qualification, he holds a Masters in marine ecophysiology and a Doctorate in Education.
Hank Duyverman was first appointed as Centre Director of Pegasus International UniCentre in Hanoi in 2011, which was followed by a period providing oversight to elements of construction of Pegasus International UniCollege, Danang. He subsequently became its inaugural Dean in 2013. After a period of leave in Australia, he has returned to resume that position but his role is now focused on curriculum development and ensuring, with a top academic team, the successful licensing for MOET and the development of the new College in Malaysia. He is the Chair of the Academic Board and Member of the Educational Governing Council. He resides now permanently in Vietnam.
---
PRINCIPAL
Dr Pham Hung Linh
Pegasus International College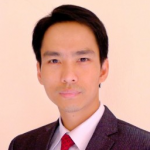 Dr. Pham Hung Linh graduated the doctoral program of Educational Administration in the United States in 2013.  He worked as the Director of Center of International Cooperation and Training at Thai Nguyen University of Education and Vice Rector of Academic Affairs, Research and International Cooperation at Sai Gon College of Art, Culture, and Tourism. He has also been the consultant and manager of numerous international and national projects funded by both US and Viet Nam governments.
As the Principal of Pegasus International College, Dr. Hung Linh is responsible for promoting student enrollment and relationship with businesses, developing programs and curriculum, and assuring teaching and learning quality. Dr. Hung Linh works closely with other members of Board of Management to develop Pegasus International College into a word-class higher education institution in Viet Nam.